History of Columbia Congregational Church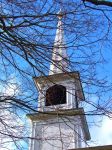 Originally Columbia was part of Lebanon, CT. The citizens of Columbia worshiped in Lebanon when they could easily get there.  In 1715, twenty four men petitioned Lebanon for permission to organize their own Ecclesiastical society.  Lebanon approved the petition, and in 1716 the General Assembly in Hartford, CT granted the request.  It took Columbia four years to find a settled pastor, therefore the year 1720 is the year recorded as the year Columbia Congregational was established.
Our third pastor, the Reverend Eleazar Wheelock, is our most famous pastor as he later founded Dartmouth College in Hanover, NH.  Our longest pastorate is that of the Reverend Frederick Avery who was here from 1850 to 1895 for a total of forty-five years.  We now worship in our third building which was built in 1832.